---
On April 12, 2013, I received my Industry Canada amateur radio license. The document's official title is "Certificate of Proficiency in Amateur Radio". It was something I wanted to have since I was a teenager, but never really got around to it. Thankfully, I took the plunge when a fellow RMC graduate student informed me of a Kingston amateur radio course in late 2012. After attending the course for about 10 weeks, I was on the air.
Although I could legally transmit on high frequency (HF), very high frequency (VHF) and ultra high frequency (UHF), I decided to begin with VHF and UHF only because I was especially interested in contacting amateur radio satellites, such as Saudisat 1C (SO-50) and JAS-2 (FO-29). I was excited by the prospect of using an orbiting satellite to briefly speak with other like-minded amateur radio enthusiasts.
I made my first successful contact with SO-50 at about 16:25 UTC on May 9, 2013 while using the VE3RMC amateur radio station at the Royal Military College of Canada (RMC). I recorded the contacts made on that day and the audio file is available on my Satellites on Radio page. It was originally very difficult to make absolutely sure that I could contact the satellite until I received a response. My first contact (QSO) was AC0RA in Illinois USA. I have since (sporadically) talked with many amateurs using the SO-50 FM and FO-29 SSB cubesats using the VE3RMC amateur station.
Before Christmas Day 2013, I ordered a Baofeng UV-5r Pro hand-held VHF/UHF transceiver (shown below) with the hope of contacting nearby ground-based repeaters and cubesats from my home near Kingston, Ontario. Although the hand-held transceiver had much less power than RMC's iCom 910 transceiver (~5 Watts versus ~50 Watts) I knew that the cubesat output was much less than the hand-held (normally 1/2 Watt or less). I knew that I had a chance of contacting cubesats when their ranges from my location were under 1000 km.
The Baofeng UV-5r Pro VHF/UHF Hand-Held Transceiver with Supplied "Rubber Duck" Antenna
I first attempted to hear the cubesats as they passed overhead. Predicting when they would pass over my location was easy enough, but knowing how to position the hand-held and its small "rubber duck" antenna was a different matter. I had to use trial and error in order to determine if I could detect them or not.
The first cubesat that I heard with the hand-held was SwissCube at 05:19 UTC January 10, 2014. Since the transceiver was FM only (no CW capability), I could only hear the "thump" and not the beeps of the morse code being transmitted. I could hear it for only a few minutes before it was too far away to receive with the small antenna. However, I had confirmed that I could detect cubesats with my modest hand-held.
My next task was to transmit to the SO-50 FM cubesat (shown below) transponder with my hand-held and receive a reply as verification of contact. My first attempt was at 22:52 UTC on January 12, 2014. Although my transmission frequency and PL tone were set properly, I received no response. My window of opportunity was as short as that for SwissCube two days earlier: only a few minutes. I made several more attempts in January but was unsuccessful. Although I could clearly hear the transmissions from the satellite, I could not verify a response from my transmissions. I began to think that my transceiver's output was not strong enough to activate SO-50's transponder, even though I could reliably contact both of the Kingston repeaters (VE3KBR and VE3FRG) from 40 km away, as long as I was outside the house when doing so.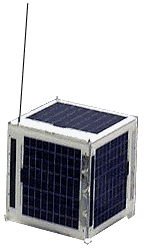 The SaudiSat 1C (SO-50) Amateur Cubesat. SO-50 is a 1U (10x10x10cm) cube that transmits with a maximum power of only 250mW (1/4 Watt)

After predicting a favourable pass of SO-50 in the first week of February, I decided to try SO-50 out once again. The skies were cloudy on the night of February 6/7, 2014 and there was a snow squall warning for my area, but I thought that I might as well try regardless. Near 00:20 UTC on February 7, 2014, I was standing outside in a snow squall trying to contact a small 10x10x10cm cube (not much larger than a coffee mug) at a range of 700 km from my house. I transmitted my call sign (VE3HEO) and my grid square (FN14) in the hopes that I would finally receive a response. Only a few seconds later, I heard my own call sign being broadcast back to me through the SO-50 cubesat! I had received a verification that I had indeed contacted the SO-50 cubesat using a $50 hand-held transceiver! I was both overjoyed and excited that I could do something so incredible with such a small piece of technology (on both sides).
When I was a child, I never would have imagined that I could have contacted an orbiting satellite using something as small as a walkie-talkie. None of this would have been possible if I did not get my amateur radio license in 2013. Now I can detect satellites (and now also contact them) not only in clear skies but in most weather conditions, thanks to amateur radio.
73
VE3HEO
---
Talking to Cubesats Was Last Modified On February 07, 2014